Introducing another East African designer we expect big things from, Hiwot Gashaw.
Hiwot is not new to fashion. She graduated in 2012 from one the of the top design schools in the capital, Addis Ababa. Working as a professional model Hiwot then decided it was time to walk off the catwalk to design for it instead, pursuing her passion for fashion by designing her own collections for her own brand, Abugida Fashion.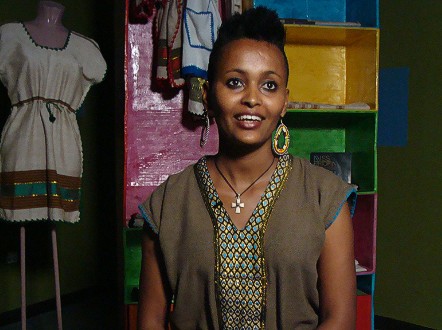 Hiwot's style is a perfect fusion of Ethiopian traditional woollen, hand-stitched designs and western materials, cuts and designs. Through Abugida, Hiwot leaves nobody out and, rather than specialising, her collection has something for everyone: she designs, produces and sells everything from children's to both women's and men's too.
Hiwot says, "Abugida' means learning something new, and with fashion I learn something new every day."
Hiwot is so involved in every single garment, she even adds the final embroidery herself, making each item unique and personal. But what also makes them unique is, she says, the fact that they are so wearable.
The company now has six full-time seamstresses, all from the streets – street girls and elderly beggars- and whom Hiwot has trained to enable them to support themselves.
So what's next for Abugida Fashion? Hiwot says her biggest challenges are buying the necessary but costly equipment to take her business to the next level, but also finding raw materials to work with. She is determined to use her business to help her local community to prosper, and also hopes that one day, "…Abugida Fashion will become a brand like Gucci and [to] be known all over the world," she says.
Check out the video below in which Hiwot describes how Abugida Fashions became one of the most renowned brands in Ethiopia and her dreams on where she would like to take the business in the future.
photo credit: Addis Zeffen