Brilliant young Africans don't come more inspirational than a young man who decides to find a way to take care of his family and ends up becoming a successful businessman. Meet Ugandan  inspiration, Andrew Mupuya.
When Mupuya's parents both lost their jobs, Mupuya realised he would be forced to leave school as they would no longer be able to afford it. So he decided to 'face the world alone' and find a way to fulfill his own dreams by making money himself.
Then, the government of Uganda announced that they were going to ban plastic bags in order to curb environmental damage, and teenage visionary Mupuya saw his chance to make some money – he decided to launch a paper bag production company!
"I conducted a feasibility study, market research around retail shops, kiosks, supermarkets around Kampala and discovered there is need and potential market for paper bags."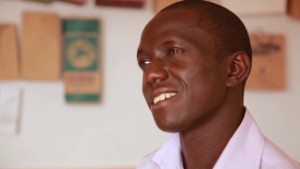 Clever young Mupuya worked out that he would need a capital of 36,000 Ugandan shillings ($14). So how to raise this money when he had nothing? First he collected plastic bottled for a week and sold 70 kilos worth for $11. Then, he loaned $3 from his supportive school teacher and began making paper carrier bags for sale.
Since those early beginnings, he has grown his business in the first registered Ugandan paper bag manufacturer, Youth Entrepreneurial Link Investments (YELI) and at the tender age of 21 employs 16 people and produces up to 20,000 paper bags each week. He supplies bags to most types of businesses, including retail, restaurants, even medical centres and can count big multinationals as clients, like Samsung , having made 1,000 niche bags for its local branches.
"Right now I have 72 clients," says Mupuya. "Ninety per cent of our clients always come back."
In 2012, Mupuya won the $30,000 Anzisha Prize saying, "The awards I have won give me courage to push on with my business," says the young entrepreneur. "It shows to me how I am doing the right thing and it helps me define the impact am creating."
Mupuya has now set his sights further into the future and plans to build a recycling centre.
"A paper bag is eco-friendly, it can easily decompose," he says. "But plastic bags take too long, so that is the difference."
photo credit: cnn