Lamipo Somoye is another Nigerian designer to watch hard. Her designs ooze style, class and control. These walk out of the boardroom to dinner or a party with attitude.
All the African fashion blogs are in love with her latest collection, Hangaku Gozen. Style Me Africa, Bella Naija, Fashion Walk Africa have all written beautifully about the delicate confidence with which Lamipo creates. Now it's Planetfem's turn to get on board.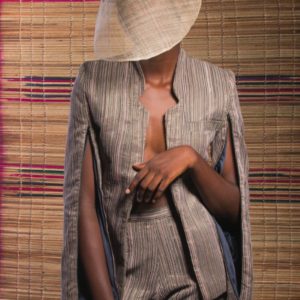 Lamipo talked to Style Me Africa about her aims for this collection, "I want every woman to feel like she commands the room, the second she walks in," she said. "Without saying a single thing, she is perceived as the most intelligent, striking and unique being in the room." Lamipo Somoye
Lamipo has launched Rayo's Studio and Web recently, following her debut LFDW collection showing as part of the Fashion Focus which attracted international mainstream attention when Vogue Italia took notice hailing the designer's aesthetic "subtle, yet sexy and sophisticated disposition".
Her latest stunning collection entitled, The Hangaku Gozen Capsule Collection is an aesthetic testimony to courage, bravery and self-sacrifice Japanese-style, the embodiment of the traits of strong, independent women. The designs incorporate regal flows, deep v-necked gowns which are cut from sensuous, feminine satin which caresses the body of the wearer. Fusions of white crepe and intricate detailing techniques, satin trousers with flowing capes in navy blue chromes, a sleeveless white top with beautifully cut matching trousers and a cream coloured jacket all thematically matched with a sinamay rice paddy hat. This collection sings to the soul of the modern woman.
photo & story source: Style Me Africa